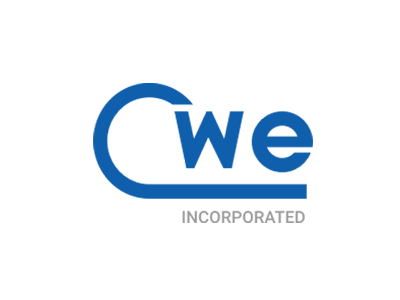 RESPIRATORY SUPPORT & PHYSIOLOGICAL MONITORING
Robust and reliable. Made in USA.
Small Animal Ventilators
A pioneer in the field of small animal ventilation, CWE offers ventilators with legendary reliability and flexible operation. Perfect for surgical support and control-of-breathing studies. Ventilators are expandable to multiple animals (mice, rats, Guinea pigs)
SAR-1000 Advanced Small Animal Ventilator – an easy to use ventilator with volume or pressure modes of operation.
SAR-830/AP Small Animal Ventilator – classic, best-selling ventilator.
MRI-1 MRI-compatible Ventilator – for MRI environments featuring a remote pneumatically operated, non-magnetic breathing valve.
AVS-1 Cycle-triggered Ventilator – features neural control, demand mode, and much more.
Anesthesia setups and accessories – put together a complete system for small animal ventilation.
View Small Animal Ventilator Catalog >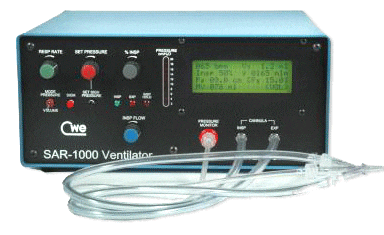 Gas Analyzers
CWE offers a range of gas analyzers for respiratory physiology research that help to improve surgical survivability and validate respiratory status. Used for studies including hypoxia and control of breathing.
CapStar-100 End-tidal CO2 Monitor – continuous measurement of expired CO2 (0-10 %) and Respiratory Rate. Features rapid response time, small sample flow requirements, and long-term stability. Ideal for rodent and larger animal studies.
MicroCapStar End-Tidal CO2 Monitor For Mice – accurate end-tidal or continuous measurement of expired CO2. Features very low sample flow rates, rapid response time, and long-term stability.
GEMINI O2 & CO2 Monitor – measures CO2, O2, and respiration rate of spontaneously breathing or ventilated animals. Breath-by-breath readings for end-tidal CO2 and O2 as well as IRR.
OxyStar Fast Response O2 Monitor – fast-response, high accuracy for respiratory monitoring, hypoxic gas studies and general use. Measurement range 0 – 100% O2, resolution 0.1%, sample flow adjustable in 10 – 200ml/min range. For small and larger animals as well as human subjects.
MM-100 Metabolic Monitor – a complete system for measuring oxygen consumption in small animals. Using latest technologies, it automatically computes O2 consumption, CO2 production and respiratory exchange ratios (RER).
MMX Series Metabolic Monitor Expanders – expands the use of MM-100 Metabolic Monitor from a single cage to 2, 8, or 16 cages.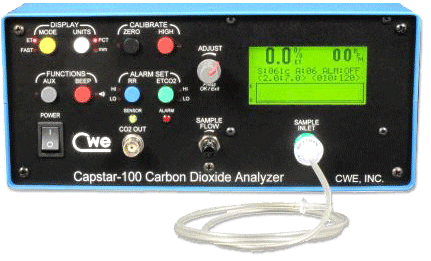 Temperature Control
The TC-1000 Temperature Controller systems for small animals monitors and controls body temperature during surgical procedures and anesthetization for good physiological health. Its DC proportional controller provides artifact-free heating using a resistive heating pad. Uses YSI-400 series thermistor temperature probes.
TC-1000 Temperature Control System
TC-1000 Mouse Temperature Control System
TC-1000 Rat Temperature Control System
TC-1000 Cat Temperature Control System
View Temperature Control catalog >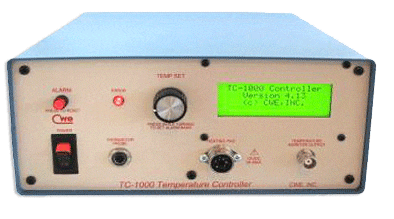 Gas Mixers
The TGSM-3 and GSM-4 Programmable Gas Mixers produce up to 4 user-defined gas mixtures. High-accuracy mass flow controllers (MFC's) set the flow to each gas channel. GSM-Comm software allows automated, user-defined timed protocols for changing mixtures. The mixers operate as stand-alone unit or with GSM-Comm software for full remote-control.
GSM-3 Three-Channel Gas Mixer – takes up to 3 input gasses and stores up to 3 user-defined gas mixtures
GSM-4 Four-Channel Gas Mixer– takes up to 4 input gasses and stores up to 4 user-defined gas mixtures
View Gas Mixer catalog >

Direct Blood Pressure
CWE offers several systems for direct blood pressure measurement – the gold standard for accurate BP measurement. The method is straightforward. Catheterization of a major artery is required. Interchangeable clinical-type transducers and easy connection to data acquisition systems.
BP-100 Automated Direct BP Monitor – for use with small animals. Reports systolic, diastolic, and mean pressures, as well as heart rate (HR). 
TA-100 Single-Channel Transducer Amplifier – a compact, stand-alone amplifier for use with DC-bridge type transducers, including BP, air pressure, strain gages, force transducers, and accelerometers. Integrated LCD display.
BPM-832 Pressure Monitor – two independent amplifier channels for bridge-type transducers, including BP, force, and acceleration. Channels provide low-pass filtering, adjustable DC balancing, and digital readout.
View Direct Blood Pressure catalog >

Bioamplifiers
CWE amplifiers for biopotential signals are available in single or multi-channel models. They offer a wide gain ranges for uV to mV level signals and sharp bandpass filters for focusing on signals of interest from EEG to EMG. Applications from laboratory to battery-powered field use.
BMA-200 Single-Channel AC/DC Preamplifier – a 1-channel high-performance, battery-operated biopotential amplifier with built-in audio monitor for lab or field use.
BMA-400 Four-Channel AC/DC Preamplifier – a 4-channel biopotential amplifier with 4 input cables. Very low noise with wide gain and frequency range. Range of accessories and rack-mount kit available.
ProAmp-8 Eight-Channel Programmable Preamplifier – an 8-channel AC/DC programmable biopotential amplifier, with 2 integrated audio channels. Very low noise with advanced features. Supplied with 8 input cables and remote-control software.
View Bioamplifier catalog >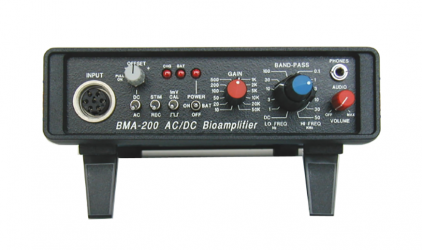 Other instruments
MA-821/RSP Moving Averager –  4 independent channels, each with a full-wave rectified output and Moving Average output. Pushbutton selection of any three time constants for each channel.
SB-1 EKG Blanker – a unique instrument for reducing the cardiac artifact in respiratory muscle recordings, especially diaphragm EMG. Easy to set up and operate.
View Other Instruments data sheets >